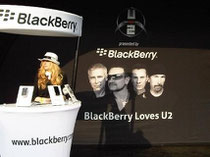 Was soll ich sagen...es war einfach ein HAMMERGEILES Event !!!
Soooooooooooooo lange hatte ich darauf gewartet – und es hatte sich gelohnt ;-)
Die Veltinsarena ist natürlich eine beeindruckende Kulisse für so ein Ereignis, die Bühne der 360° Show, die "the Claw" genannt wird, war spektakulär.
Pünktlich um 19.30 Uhr fing "Snow Patrol" als Vorgruppe an und heizte die Menge über 1 ½ Stunden ein.
Um 21 Uhr war es dann endlich so weit – U2 kam auf die Bühne und übernahm das Kommando. Die Show war einfach gigantisch, U2 live war genau so, wie ich es mir vorgestellt habe J Einfach GENIAL !!!!
Zugegebenermaßen bin ich ja nicht von allen neuen Liedern nicht grenzenlos begeistert ;-), doch selbst die waren live ein Fest J !!!
Man merkte der Menge deutlich an, dass ganz ganz viele "alte Hasen" dabei waren. Sobald ein älterer Song angespielt wurde, wurde das Lied direkt erkannt und die Menge tobte und applaudierte.
Es gab ganz ganz viele Momente, in denen meine Gänsehaut Elefantenpickel-groß war... viele alte Lieder, viele Erinnerungen, viele Gefühle ... einfach nur HAMMMMMER diese Jungs !!!!!!!!!!!!!!!
Hier die gespielten Titel / Setlist:
Breathe, No Line On The Horizon, Get On Your Boots, Magnificent, Mensch (snippet) / , Beautiful Day / Here Comes The Sun (snippet), Elevation, I Still Haven't Found What I'm Looking For / Movin' On Up (snippet), Stuck In A Moment You Can't Get Out Of, Unknown Caller, The Unforgettable Fire, City Of Blinding Lights, Vertigo, I'll Go Crazy If I Don't Go Crazy Tonight, Sunday Bloody Sunday / Rock The Casbah (snippet), Pride (In The Name Of Love), MLK, Walk On / You'll Never Walk Alone (snippet), Where The Streets Have No Name, One / Mensch (snippet)


Hier die Zugaben:
Ultra Violet (Light My Way), With Or Without You, Moment of Surrender


Es war ein gigantisches Ereignis, an das ich mich noch sehr sehr lange zurückerinnern werde ... in vielerlei Hinsicht...
Danke für das tolle Event...