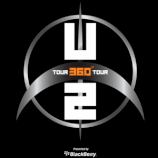 ;-)
Große Dinge werfen ihre Schatten voraus.
Seit ich Mitte der 80er das erste Mal U2 gehört habe, möchte ich ein Live-Konzert von den coolen Socken aus Irland sehen, hören, fühlen ... nun ist es endlich soweit:
Am 03. August werden wir in Gelsenkirchen die 360°-Tour erleben.
Ich gehe fest davon aus, dass sich Bono & seine Crew etwas Tolles haben ein- fallen lassen ;-) Neben den Highlights wie "I'll go crazy if I don't go crazy tonight", "Magnificent" und "No line on the horizon" werden wir wohl hoffentlich auch ein Kribbeln im Körper spüren, wenn meine Lieblingssongs "Pride – in the name of love", "all I wan't is you" , hold me, thrill me, kiss me, …" oder "Beautiful day" gespielt werden.
Vorfreude ist schon schön ...*griiiins*